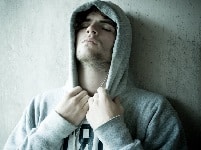 Post-Traumatic Stress Disorder (PTSD)
Each one of us has undergone some traumatic phase at some point of our lives. With time, the life resumes it normalcy but the scar left by the trauma refuses to leave our mind and soul.
In most of the cases, it becomes almost impossible to come to terms with the incident. It is this phase when you start drifting towards post-traumatic stress disorder (PTSD).
It has a solution that can be expressed in one phrase- confront your emotions and feeling. It is easier said than done, so clinically speaking post-traumatic stress disorder (PTSD) can be effectively treated by the professionals.
No matter how old the trauma is, PTSD can be treated at any point of time. So, it is never too late. Post-traumatic stress disorder is primarily treated with medications along with counseling or psychotherapy.
If you're showing mild PTSD symptoms or have been experiencing the same for less than a month your psychiatrists or psychologists will recommend watchful waiting for you. This refers to an observant phase when you will need to monitor yourself whether the symptoms are getting worse or are towards improvement.
In many cases, symptoms disappear within weeks of surfacing, once you get conscious about resolving the problem. If symptoms persist, PTSD is first addressed with psychotherapy which is carried out by trained and licensed professionals.
They engage you in conversations to know deeper about you and recommend effective solutions accordingly. There are two types of therapies that are usually recommended- cognitive behavioral therapy or CBT and eye movement desensitization and reprocessing or EMDR.
If the treatment starts within a month of the traumatic incident, not many sessions of CBT is required. Else it takes 8-12 weeks of 90 minute long counseling and therapy sessions. CBT is especially recommended for children suffering from post-traumatic disorder symptom (PTSD).
There are few conditions where antidepressants are prescribed. These conditions include:
You choose against psychotherapy program
Due to ongoing trauma or threats for the same, like domestic violence, psychotherapy is not effective.
Sessions of trauma focused psychotherapy treatment failed to bear much benefit.
Under these conditions, you will be recommended medicinal mode of treatment. Drugs prescribed for post-traumatic stress disorder (PTSD) usually are antidepressants including paroxetine, phenelzine, and mirtazapine.
Paroxetine is a licensed drug especially used to treat PTSD. However, other two medicines are found quite useful and thus recommended too, though used under the supervision of a specialist. And these drugs are prohibited for patients less than 18 years.
Call Metro Detroit Counseling at (248) 269-9783