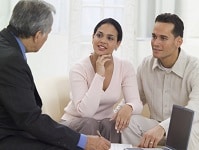 There is no doubt about the fact that marriages can be pretty challenging. Much like everything in life, relationships have multiple edges and over the years, it can get distressed from constant use. If your marriage has hit a dead end or something even more serious, it is time to seek professional help in the form of marriage therapy. At Metro Detroit Counseling, our team of expert marriage therapists provides compassionate, experienced, and helpful therapy to help you discover the positivity, happiness, and transformation in your ailing marriage.
The following marital signs are symptomatic enough for you look for immediate therapeutic attention:
Poor communication – If you have stopped communicating about the difficult issues of the relationship with your spouse, seeking professional help is the next course of action. Whether it is finance, children, or sex, when it becomes too frightening to bring different issues up in the conversation, a professional can help you start 'talking' with the other half.
Children – If you continuously conflict with each other's style of parenting and found yourselves at loggerheads on repeated occasions, marriage therapy can help you sort out the emotional and wrathful mess your relationship has turned into. Don't let your children become a collateral damage in a relationship gone wrong.
Love is still there – You have gotten into the commitment of a marriage, for 'love' in the first place. If you are still in love with your spouse but has let it sink somewhere in the quagmire of daily drudgery, an expert and licensed marriage therapist can help you uncover that passion and help you make things successful.
Professional Therapists at Metro Detroit Counseling
Marriage therapy requires a therapist to be equipped with precision and acumen to instill reason and compassion in the emotionally intense environ of an incompatible couple. The therapists have to undergo years of supervision and stringent coursework while going through an arduous licensing and credentialing process to qualify as a practitioner. And they also continue their education throughout the period of their career to master the newest developments in the field.
The training, skills, and most importantly years of experience, prepare couple's therapists to offer plausible solutions even in the highly charged and volatile milieu of a distressed marital relationship. They will help you to restructure and rejuvenate the crumpling marriage with optimistic resolutions.
Not all hope is yet lost. Instead of prolonging the pain, come to us immediately for prompt solutions.