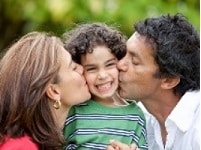 Heal the Soul of Your Family
When a family suffers from recurring psychological ailments, it becomes necessary to seek professional intervention of expert practitioners who will help identifying the problem areas to discover effective solutions. However, recognizing the telltale signs is essential to take recourse to therapeutic help. Identification and realization of the fact that a persistent sense of emotional unrest is prevailing in the family hindering the route to emotional wellbeing, is the first step towards the healing.
Family Therapy – Solution for Myriad Family Problems
At Metro Detroit Counseling, our team of expert family therapy practitioners provides effective and considerate Family Therapy services. It is commonly acknowledged that family therapy is a challenging task where the therapist has to deal with volatile emotions of an entire family consisting parents and children. Individual and group therapy is required for each family member and the family as a system. Our licensed family therapists with years of experience offer plausible solutions through effective counseling and therapy sessions.
This therapy has been successfully used to treat different families in diverse situations including families in which:
The parents face conflicts in their relationship
A child has school or behavior problems
Teens or children have issues in getting along with each other
One of the family members suffers from long-term substance abuse or mental illness such as alcoholism or severe depression
The family therapists will involve you and your family to find the precise solutions for the issues. The whole process underlines the significant role played by family relationships in an individual's psychological health. The family therapists will ensure that everyone of the family is involved in the therapy sessions by directly participating in it. The expertise of our therapists lies in their capacity to influence conversations and communication within the family that ultimately catalyzes support, wisdom, and strengths for the wider system.
Family Therapy Helps Even Before the Problem Sets In
Family therapy delivers results even before the problems begin. This type of therapy is helpful for families when a major transformation in their lives is anticipated. For instance, a family facing imminent divorce, death of a family member, second marriages where each partner has children from previous relationships – family therapy may help them to effectively adapt to the change.
Family therapy offers functional and positive benefits to deal with various relationship problems within the family. Our team of family therapists will work together with you towards achieving the common goal of optimism and conviction in the strength of the family.
Call Metro Detroit Counseling at (248) 269-9783