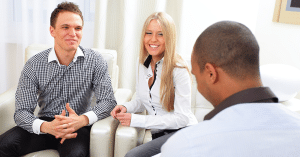 Premarital counseling is designed to prepare an engaged couple before they get married. This is often done through a church with the help of the clergy presiding over the ceremony. Whether you're religious or not though, premarital counseling is something that you should strongly consider going through before you walk down the aisle. Here are 5 reasons why every couple should go through premarital counseling.
1 – Confirm You're Ready For Commitment
You may feel that you are ready to fully commit to your partner, but chances are your relationship hasn't been put to the test yet. With premarital counseling, you will get a taste of what marital life will be like before you actually get married. Your counselor will bring up points of discussion that you may not have considered just yet, and those could alter your plans a little bit. If not, you will be even more confident in your decision.
2 – Learn New Information About Your Future Spouse
As with any counseling setup, you will find yourself opening up abut topics you may not have discussed yet as a couple. This gives you a chance to put everything on the table and see how your future spouse will respond. In the same light, your fiancé will open up about matters you may not know about yet. This will help you learn more about the person you are preparing to spend your life with.
3 – Work Through Lingering Problems
Marriage will not solve any of the problems in your relationship. It will only make them worse. If there is an ongoing battle you cannot seem to get past, premarital counseling will help you come to a consensus about it. You can gain new perspective on the matter through your counselor, and you can hopefully work out a compromise.
4 – Establish A Foundation Of Truth
A marriage built on lies is sure to crumble. With the help of premarital counseling, you can confess to any lies that you might still be holding onto, and you can work through whatever issues those lies might create. It is better to get this in the open now than I would be when you are officially married.
5 – Prepare For The Stress To Come
No matter who you talk to, any married couple will admit to being stressed. That comes with the territory when you commit yourself to someone for eternity. Premarital counseling will give you a glimpse of the stress that comes with marriage to help you conquer it even better when the time comes.